Implant-Supported Dentures in Odessa, TX
Secure Your Dentures with Implants
For patients missing a majority of their teeth, implant-supported dentures, also known as overdentures, are commonly used. Implant-supported dentures are dentures that are secured in place using dental implants in the jaw.
They're often used when a patient no longer has teeth remaining in their mouth but enough bone in their jaw to support implants. Implant-supported dentures snap into place on top of implants but can be removed for cleaning.
Benefits of Implant Dentures
Implant-supported dentures provide a number of benefits and are a great improvement from traditional dentures. They don't require any adhesives or powders to help the dentures stick, making them very secure and comfortable.
This stabilized solution significantly improves the ability to chew without worrying about your dentures sliding around. Implant-supported dentures also help maintain facial structures and minimize wrinkles because they preserve bone in the jaw and restore lip-support.
As a long-lasting solution for tooth loss, overdentures will be sure to provide you with endless amounts of benefits for a lifetime. You'll feel more confident and comfortable when sharing your smile with those around you.
Securing Your Implant-Supported Dentures
After your initial consultation with Dr. Rangel, we'll begin your treatment by placing your implants. Typically using four to six dental implants, Dr. Rangel will fasten them into your jawbone so they can properly bond together.
You'll then have a temporary denture placed while you wait three to six months before you can return for your final restoration placement. This healing period allows time for the implants to fuse to your jawbone.
At your next appointment, Dr. Rangel will place the abutments, which help connect the implants to your denture piece. Once we check to see that your dentures properly fit onto your implants, we will permanently secure them in place.
Proper Care for Your Overdentures
Dr. Rangel will show you how to care for your new implant-supported dentures following your procedure. Just like your natural teeth, you'll need to provide proper hygiene care to your implant dentures as well. Here's how:
Remove your dentures every morning and night and rinse them.
Use a soft-bristle toothbrush and a cleanser to gently brush your dentures and to clean around the attachments as well.
Be sure to clean your mouth properly, including your gums, tongue, cheeks, and roof of the mouth.
During the night or whenever you're not wearing them, put them in a safe place covered in water so they don't dry out or change shape.
Are You Ready for a Long-Lasting, Durable Solution?
Get scheduled with a consultation today if you're ready to fasten your dentures in place with long-lasting dental implants. You'll no longer have to speak or eat with slipping dentures and can instead enjoy your secured smile with ease. Give our Odessa office a call today to get started (432) 333-6169.
Frequently Asked Questions
Related Denture Articles
Removable Full Dentures
Complete tooth loss can cause a host of health problems, including malnutrition and bone loss. Though fixed bridgework may hold a higher place of reverence when it comes to replacing an entire set of teeth, removable full dentures can provide an elegant solution that is significantly more affordable... Read Article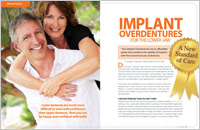 Implant Overdentures for the Lower Jaw
Implant overdentures represent a major change for the dental profession and the public. The lower jaw two-implant overdenture may be considered a more appropriate starting point over regular dentures... Read Article