What 3D-Printed Dentures Can Do for You
Full Dentures
Eating, talking, and smiling is easier when you feel confident in your teeth. 
Fortunately, removable dentures are an affordable and comfortable solution for complete tooth loss. These traditional full sets of teeth are durable and natural-looking, helping you smile with confidence. 
Partial Dentures
If you're only missing a few teeth, it won't take much to make your smile perfect. Partial dentures from Dr. Rangel can boost your confidence by filling the gaps in your teeth, providing you with a stunning smile.
Partial dentures have gaps that fit perfectly around your natural teeth. This means your replacements will keep your natural teeth healthy and strong for longer. Tooth loss often changes where you rest your jaw, but partial replacements help to realign your bite and put your teeth back where they used to be.
Receiving Your 3D-Printed Dentures
Your dentures are essential in your everyday life. That's why Dr. Rangel's office uses 3D printing, among other emerging technologies, to quickly build your stunning new smile. 
You can receive these immediate dentures the same day as your appointment, making it easy for you to work the treatment into your schedule. Thanks to 3D printing, we can build your confidence and your smile in just one day.
How To Clean Your Dentures
Good oral hygiene and nightly care will keep your dentures whiter for longer. The American Dental Association (ADA) suggests removing your dentures and brushing them with a soft-bristled toothbrush using soap, toothpaste, or denture cleanser. 
Overnight, you should soak your dentures in water or dental solution to keep them flexible. If they dry out, they could further change your gum and jawbone health. 
With diligent nightly care, dentures are a beautiful, long-lasting solution to tooth loss.
Are You a Candidate for Dentures?
Living without your natural teeth is limiting. It can be hard for you to smile or eat without worrying about how your teeth look and feel. Fortunately, getting your dentures doesn't have to be long-term or stressful — you can receive them in one day and gain self-confidence fast.
Any patient may be a candidate for dentures if they've gone through multiple tooth extractions and want to perfect their smile again. Dr. Rangel will work with you to craft beautiful dentures that suit your specific needs. For added convenience, our office works with you and your insurance provider to personalize your payment plan.
Bring Back Your Smile at Laser Smile Center
At our Odessa office, we're committed to recreating your smile. Our full and partial dentures protect your gums, reinforce your jawbone, and take jaw pressure off your natural teeth. Plus, our affordable 3D printing technology builds your dentures fast, giving you all the benefits of a beautiful smile in just one day. 
It's time to feel better and smile freely — call (432) 333-6169 to schedule your appointment today.
Related Denture Articles
Removable Full Dentures
Complete tooth loss can cause a host of health problems, including malnutrition and bone loss. Though fixed bridgework may hold a higher place of reverence when it comes to replacing an entire set of teeth, removable full dentures can provide an elegant solution that is significantly more affordable... Read Article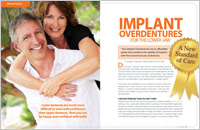 Implant Overdentures for the Lower Jaw
Implant overdentures represent a major change for the dental profession and the public. The lower jaw two-implant overdenture may be considered a more appropriate starting point over regular dentures... Read Article