Dental Implants in Odessa, TX
What Are Dental Implants?
Our teeth serve a number of essential functions including keeping us healthy while helping us to look and feel our best. When you lose a tooth, not only does it affect your health, but it can also be a massive blow to your self esteem. 
Fortunately, at Laser Smile Center of Odessa, TX, Dr. Rangel can replace your missing teeth with Dental Implants. Dental Implants are restorations that look and act like real teeth. With a custom made set of dental implants, you can eat, speak, and smile with confidence again.   
Benefits of Dental Implants 
Dr. Rangel encourages patients who are good candidates or could be good candidates with a supplemental procedure to have dental implants installed to replace missing teeth. Dental implants offer a wide array of advantages over non-implant restorations like dentures and bridges including:
The Dental Implant Process
Before deciding on dental implants, you'll attend an initial consultation with Dr. Rangel. Dr. Rangel will examine your teeth, mouth, and jaw to determine if you're a good candidate for dental implants. 
If you've had missing teeth for an extended period of time, you may have lost gum tissue or jawbone density. Dental implants require sufficient jawbone density and healthy gums to succeed. In cases like these, Dr. Rangel may recommend a supplemental procedure. 
Supplemental procedures like bone grafting and gum tissue grafting can add the necessary foundation for your implants, giving you higher chances of implant success. 
Once Dr. Rangel has decided that dental implants are a good choice for you, and all necessary supplemental procedures have been performed, we'll schedule your appointment for dental implant placement. 
Before placing your implants, we'll numb the surgical site with a local anesthetic and make sure it's working properly. If you experience dental anxiety, be sure to ask Dr. Rangel about our sedation dentistry options before your dental placement procedure. Sedation can keep you calm and relaxed, making the procedure easier for you and Dr. Rangel. 
Once you're numb and calm, you'll be ready for your dental implant placement. Dr. Rangel will make small incisions in your gums where the titanium fixtures will be placed. These fixtures are the biocompatible foundation of your implants, mimicking the root of a natural tooth. Your fixtures will fuse to your jawbone in a process called osseointegration.
You'll return for your third appointment once your jawbone is fully healed and osseointegration is complete. You can expect healing to take anywhere from three to six months. This timeframe can grow or shrink based on factors such as the number of implants you receive and your body's unique physiology.
For your third appointment, your permanent restoration, the crown,  will be attached to the titanium fixtures. This is done using a connector piece called an abutment. With your permanent restorations firmly attached, your implants will be complete and you'll walk out of our office that day with a new, dazzlingly complete smile.  
Are You a Candidate for Implants?
Our patients choose dental implants for many reasons. You're a candidate for implants if:
You have/will have one or more missing teeth

You want a natural-looking tooth replacement

You'd like to be able to eat all the foods you love

You're interested in a permanent, stable restoration

Protecting your oral health is on your list of priorities
Frequently Asked Questions
Laser Smile Center Can Restore Your Smile With Implants
At Laser Smile Center, our dentist, Dr. Rangel can use state of the art dental implants to restore your smile to its full functionality. With dental implants, you can eat, speak, and smile again without feeling the need to cover your mouth. Best of all, your implants can grant you the benefits of a complete smile for years to come. 
To learn more, call our office at (432) 333-6169. You can also fill out your information in our contact form and we'll be right with you. 
Related Dental Implant Articles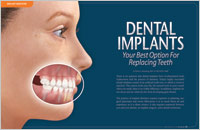 Dental Implants – Your Best Option For Replacing Teeth
Dental implants have many advantages over older methods of tooth replacement like bridges and dentures — from the way they function and feel to the way they look and last. Vigorous research has documented and confirmed that in the right situations, dental implant success rates are around 95%. It is no exaggeration to say that they have revolutionized dentistry. They may even change your life... Read Article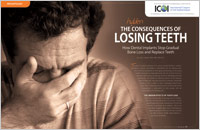 The Hidden Consequences of Losing Teeth
For those missing even one tooth, an unsightly gap is actually the least significant problem. What's of far greater concern is the bone loss that inevitably follows tooth loss. Dental implants fused to the jawbone can preserve bone, improve function and enhance psychological well-being. Learn how implants serve both as anchors to support replacement teeth, and preserve bone as one of the better preventive maintenance procedures in dentistry... Read Article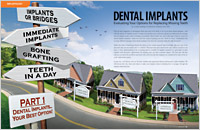 Dental Implants — Evaluating Your Options for Replacing Missing Teeth
As we guide you through the marketing hype you'll see that well planned implants most often require a team approach in assessing whether they're right for you. Not only are they a better treatment choice, they will last longer, possibly a lifetime, making them the right choice and the most cost effective option long term... Read Article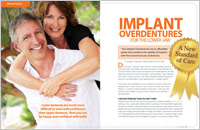 Implant Overdentures for the Lower Jaw
Implant overdentures represent a major change for the dental profession and the public. The lower jaw two-implant overdenture may be considered a more appropriate starting point over regular dentures... Read Article