Dental Bridges in Odessa, TX
Dental Bridges: Secure Restorations & Implant Alternatives
Untreated tooth loss can lead to a host of oral health issues while harming your self-esteem. While we strongly recommend dental implants for a permanent solution to tooth loss, not every patient qualifies for the procedure. Several factors can disqualify patients from dental implant surgery, like insufficient jawbone density, poor oral health, metal allergies, and certain medications. 
Fortunately, there are alternatives to dental implants that are secure, long-lasting, and involve less invasive procedures. At Laser Smile Center, Dr. Rangel recommends dental bridges to restore patients' smiles to full function.  
What Are Dental Bridges?
Dental bridges are restorative dentistry options that involve placing crowns on either side of a missing tooth to "bridge" the gap. These crowns provide anchors for the false teeth, known as pontics, that will fill that gap. Pontics are permanently connected to the anchor crowns and act as replacements for any lost teeth.  
Benefits of Dental Bridges
There are several benefits of dental bridges that make them an appealing restoration option, such as:
The Dental Bridge Process
Before receiving your new bridge, you'll attend a consultation with Dr. Rangel. He'll thoroughly examine your mouth, review your medical history, and discuss your smile goals with you. This will allow him to determine if dental bridges are right for you.
Dr. Rangel will discuss your restoration options with you before proceeding. Once it's been decided that bridges are right for you, we'll take digital images and impressions of your teeth. These images and impressions will serve as blueprints for the crowns and the pontics that will make up your bridge. 
These blueprints will be sent to an off-site lab where your bridge will be fabricated. When you return to our Odessa office to have your bridge fitted, we'll apply a local anesthetic beforehand so you don't feel any pain during the procedure. Then, Dr. Rangel will prepare your anchor teeth by removing a portion of their enamel to create a base that will accommodate the crowns. 
Once your "anchor" teeth have been prepared, Dr. Rangel will attach the crowns of the bridge to these teeth and cement them into place using a dental grade adhesive. With full function restored to your teeth, you'll leave our Odessa office that day and be ready to smile with confidence again.
Frequently Asked Questions
How long do dental bridges last?
With good oral hygiene and regular visits to our Odessa office, your bridge can last anywhere from 10 to 30 years. Good oral hygiene includes brushing at least twice a day, flossing at least once a day, and rinsing between meals. It's also essential to schedule biannual appointments to our office in Odessa for routine cleanings and exams. 
Why am I experiencing tooth sensitivity after getting a bridge?
Because receiving dental bridges requires tooth shaving, some mild tooth sensitivity after a bridge procedure is normal. However, this sensitivity should subside once your body has adjusted to the bridge.  
Extended sensitivity could be a sign of complication and must be addressed promptly. If you're experiencing sensitivity that lasts more than two weeks, call our Odessa office at (432) 333-6169 as soon as possible. We'll do our best to resolve any issues and get your treatment back on track.
How much do dental bridges cost?
Because getting a dental bridge is a minimally invasive procedure and tends to involve less expensive materials, your bridge will likely cost less than an implant. Factors such as the number of pontics you require, your level of oral health before receiving your bridge, and your insurance plan can affect costs. 
We encourage you to call your dental insurance provider before your procedure and learn what your plan will cover. We also offer financing options to help make your treatment more affordable.
Bridges: Restore Your Smile In Less Time With Less Pain
When implants aren't the best option, dental bridges can help restore the function of your smile for years to come. With dental bridges, you can expect to see results much sooner without the need for invasive surgeries and costly restorations.  
To learn more about what Dr. Rangel can do for your smile with a dental bridge, call our Odessa office by dialing (432) 333-6169. You can also contact us online and a friendly staff member will get back to you shortly.  
Related Bridgework Articles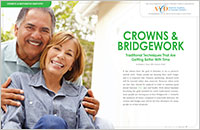 Crowns & Bridgework
Replacing missing teeth — even the ones in back — is important to help restore chewing ability as well as preserve facial contours and reestablish a pleasing smile. Most crowns are made of tooth-colored ceramic materials, which are shaped to look and function just like normal healthy teeth. Crowns and bridgework may sometimes be the best tooth-replacement option, especially when dental implants aren't an option... Read Article