Dental Bonding in Odessa, TX
Repair Your Teeth with Dental Bonding
Dental bonding is used to repair a tooth, cover up a cosmetic flaw, or it can also be used in place of regular amalgam fillings. Dr. Rangel may also offer bonding to patients as an alternative to amalgam fillings because the white color is much less noticeable than the silver of the amalgam fillings.
Bonding can be used on front and back teeth, depending on the location and extent of the tooth damage. Bonding is a more affordable treatment than other cosmetic treatments and can usually be completed in just one appointment.
Is Bonding a Permanent Solution for My Smile?
Bonding isn't a permanent solution, but treatment is designed to last for at least 10 years with good oral hygiene. Caring for your teeth after a bonding treatment is as easy as taking care of your natural teeth. Brush and floss regularly, as well as schedule bi-annual dental check-ups to help maintain healthy teeth, gums, and long-lasting bonding.
Reasons for Teeth Bonding
When you come in looking to restore or enhance your tooth, Dr. Rangel may recommend dental bonding if you need to:
Repair decayed teeth
Fix chipped or cracked teeth
Improve the appearance of discolored teeth
Close spaces between teeth
Lengthen teeth
Change the shape of teeth
Protect a part of the tooth's root that has been exposed
The Dental Bonding Process
The teeth bonding process can be completed in one quick visit to our Odessa office. Here's what to expect:
Preparation: For a bonding treatment, minimal prep is required. Anesthesia isn't often necessary, but it can be offered to patients with a completely decayed tooth, a chipped tooth close to the nerve, or a tooth that needs to be reshaped and drilled. If anesthesia isn't needed, Dr. Rangel will then closely match an appropriate composite resin to blend in seamlessly with your smile.
Bonding: Once we've found the perfect match for your new bonding material, Dr. Rangel will place the white filling on your tooth. The resin will bond to your tooth, be smoothed to your desired shape, and be complete with a polishing treatment. Your restored tooth will help boost your confidence with its improved appearance.
Total Treatment Time: Most patients can complete the entire dental bonding process in a single visit, usually taking 30 to 60 minutes per tooth. The entire procedure time may take longer depending on how many teeth need to be bonded. Luckily, there's no need for molds or customizations so once the bonding process is complete, you'll be ready to show off your new smile.

Will My Bonding Material Break Easily?
Dental bonding uses a strong, tooth-colored resin that hardens and bonds with your tooth using a special light. It corrects several dental imperfections and protects your teeth from further damage.
The bonding material may stain or break over time, or, if you suffer from bruxism, it can chip, crack, or break. If your bonding does stain, break, or chip, please let us know so Dr. Rangel can patch or repair it.
Is the Dental Bonding Procedure Painful?
The dental bonding procedure is a quick and painless procedure that typically takes under an hour for each tooth. Anesthesia typically isn't needed because the affected area in which the tooth is bonded is not sensitive.
With years of experience, you can trust Dr. Rangel that your procedure will go as smoothly and comfortably as possible.
Bonding Can Repair Your Tooth at Laser Smile Center
At our Odessa dental office, our team will always help you find the right treatment to restore your tooth and enhance your appearance. Dental bonding is the perfect solution for minor cosmetic imperfections, plus it can be completed in just one visit. Don't neglect your smile any longer and call today to schedule an appointment – (432) 333-6169.
Related Tooth Bonding Articles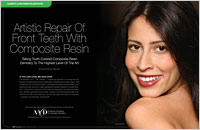 Artistic Repair of Front Teeth With Composite Resin
Cosmetic dentistry is about creating invisible art — recreating teeth that look totally natural so that no one can tell the difference! It involves a detailed understanding of natural tooth composition and form, choosing the right composite resin to rebuild and restore lost tooth structure, and understanding light and color. Oh, and a dental artist who can put them all together... Read Article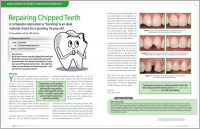 Repairing Chipped Teeth
A composite restoration or "bonding" is an ideal material choice for a growing teenager. Composites can be made in a wide range of tooth colors allowing for near perfect color matching with existing teeth — in artistic hands they can be made to look very natural and lifelike... Read Article