Sedation Dentistry for Odessa, TX
Stay Relaxed with Sedation Dentistry
Do you generally get anxious or scared when getting ready for your dental appointment? Or do you need to undergo a dental procedure, but worried about the pain? With sedation dentistry, Dr. Rangel and our team can help you feel at ease throughout your entire dental experience.
We offer different sedation options to fit the individual needs of our patients. Each option will help diminish your nerves and keep you calm during your dental procedure so Dr. Rangel can work efficiently and effectively. Learn more about sedation dentistry
Reasons for Sedation
If you're unsure whether or not sedation is right for you, Dr. Rangel can help determine this with you during your consultation. He will always ensure you feel comfortable moving forward with anything regarding your dental procedure before doing so.
A good candidate for sedation dentistry is anyone who is:
Undergoing a complex surgery
Scared of the dentist
Fearful of needles
Unable to get numb easily
Susceptible to gagging
Phobia of dental tools, sounds, or smells
Our Different Options
We want all of our patients to feel comfortable and confident in the care they receive. Sedation dentistry is here to aid you through your treatment process so you can live with a healthy, beautiful smile. Here are the sedation options we offer.
Nitrous Oxide
Nitrous oxide, also known as "laughing gas," is commonly used to make treatment more comfortable with minimal discomfort. Patients will breathe it in through a mask and the effects of the oxide will produce a state of relaxation within minutes.
Oftentimes for dental surgery, a local anesthetic is administered with the nitrous oxide to numb the area and eliminate pain. After your procedure, the nitrous oxide will quickly wear off and most patients are capable of driving themselves home.
Oral Sedation
Oral sedation is another option for patients who need to feel more relaxed during their dental procedures. Dr. Rangel will provide you with your sedative in pill or liquid form and you'll take it typically an hour before treatment.
The medication produces a calming effect to make your visit to our office a much less stressful experience. Oral sedation is simple, safe, and has very few side effects.
Get in Touch with Our Team Today
If you've been holding back on visiting the dentist because of anxiety or a phobia, know that sedation dentistry at Laser Smile Center can help. Dr. Rangel and our dedicated team are here to make you visit stress-free and comfortable no matter what procedure you're receiving. Contact us to learn more about our sedation options today.
Frequently Asked Questions
Should I choose sedation dentistry?
Dr. Rangel can help you determine whether or not sedation is right for you. Sedation dentistry can cover a wide variety of treatments, so discussing the different types and levels of sedation guide you towards the right choice.
Generally, we'll also consider the age and health of the patient interested in sedation, as well as check to see if they're taking any other medications before we move forward the procedure.
What should I expect if I am sedated for my dental procedure?
Depending on the type of sedation you receive, you can expect slightly different experiences. With nitrous oxide, you'll be instructed to inhale the gas at the beginning of your procedure. You'll begin to feel its effects immediately, making you more tranquil and sleepy.
Oral sedation is also an easy method since you simply need to take a prescribed medication about an hour prior to your appointment. You'll feel comfortable, yet completely conscious and aware throughout your treatment.
Are there any precautions I need to take after being sedated?
In some cases, you should be prepared to have someone drive you home after your procedure if the sedatives haven't worn off. Typically, with nitrous oxide, you'll be able to drive yourself home. Oral sedation, however, can take longer to wear off so we recommend having a driver.
Our team can review this with you during your consultation so you can plan on this the day of your procedure.
Related Sedation Dentistry Articles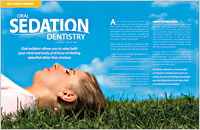 Oral Sedation Dentistry
Step out from under the shadow of fear and into the calm of sedation dentistry. There are safe and time-tested options available to ensure that you have a positive and painless dental experience. Your apprehension and hypersensitivity to pain melt away, yet you remain awake and in control... Read Article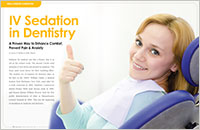 IV Sedation in Dentistry
Does dental treatment make you anxious? If so, you're not alone: as much as 50% of the population has apprehension about dental treatment. An estimated 15% are so fearful, they avoid dental treatment entirely. But it doesn't have to be that way. Learn how IV sedation allows for an anxiety-free experience of dental care... Read Article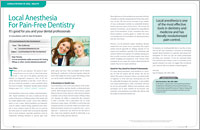 Local Anesthesia for Pain-Free Dentistry
Local anesthesia is one of the most effective tools in dentistry and medicine. It is safe, effective and has totally revolutionized pain control. Without local anesthesia, some dental procedures would be quite stressful for all involved. It's good for you and for your dental professionals... Read Article