Dental Sealants in Odessa, TX
Protect Your Teeth From Cavities
According to the Center for Disease Control, over half of children aged six to nine have had a cavity in their baby teeth and about 90 percent of adults aged 20 and older have had at least one cavity. Cavities are highly common and if left untreated, can lead to more serious oral health issues such as pain and infection. 
At Laser Smile Center, we believe one of the best ways to deal with cavities is to prevent them from occurring. That's why we offer dental sealants to our patients. Read on to see if dental sealants may be the solution for you.
What Are Dental Sealants?
Dental sealants are thin plastic coatings that are painted on to the back teeth (molars). Your molars are the most vulnerable to cavities because of the depth and unique shape of the grooves. These spaces are often hard to clean properly with a toothbrush. By coating these teeth in sealants, we can help prevent tooth decay from setting in. 
Benefits of Dental Sealants
Prevent cavities

Painless, non-invasive application

Can prevent up to 80 percent of cavities in the

first two years

Can last for

nine years

after application

Prevents the need for more expensive, invasive treatments such as

fillings
The Dental Sealant Process
Consultation
Before you can have sealants applied, you'll undergo a consultation with Dr. Rangel. He'll examine your teeth to determine your level of oral health and decide if sealants are a good idea for you. If you already have cavities, you may not qualify for sealants. However, Dr. Rangel will be sure to let you know about all of your options so you can make an informed decision that's beneficial to your health. 
Preparation
Once you and Dr. Rangel have both decided that sealants are a good treatment option, we'll thoroughly clean your teeth so the sealants adhere to the enamel better and no food particles are trapped by the sealants. 
Dental Sealant Application
Once your teeth are clean, we'll apply the sealant by painting them on to your back molars. The process is quick and painless, requiring no anesthetic or sedation. 
Frequently Asked Questions
Prevent Cavities With Dental Sealants at Laser Smile Center
Prevention of cavities is better for your health and your wallet than treating them, which is why Dr. Rangel encourages his patients to protect their teeth with sealants. To learn how you can help prevent tooth decay with dental sealants, call Laser Smile Center of Odessa by dialing (432) 333-6169 and schedule a consultation with Dr. Rangel. You can also fill out our contact form, and a friendly team member will get back to you shortly. 
Related Dental Sealants Articles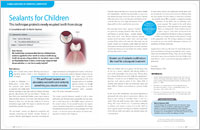 Sealants for Children
The tiny grooves in your child's back teeth are ideal places for cavities to form. But you can take a proactive role in preventing this with dental sealants. These are protective plastic resin coatings placed in these tiny pits and fissures of teeth, actually sealing them from attack. It's a wonderful method of decay prevention that every parent should consider... Read Article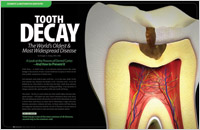 What is Tooth Decay? – And How to Prevent It!
Tooth Decay is an infection, and many people don't realize that it is preventable. This article is the first in a series about tooth decay, perhaps the number one reason children and adults lose teeth during their lifetime. Explore the causes of tooth decay, its prevention and the relationship to bacteria, sugars and acids... Read Article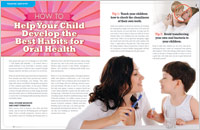 How to Help Your Child Develop the Best Habits for Oral Health
Proper oral health habits are easy to learn — and lead to behaviors that result in life-long dental health. And the time to begin is as soon as your child's first baby teeth appear. From tooth-brushing for your toddler to helping your teenager stay away from tobacco, Dear Doctor offers the most important tips for healthy habit formation through childhood and beyond... Read Article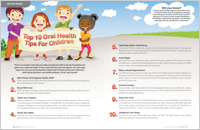 Top 10 Oral Health Tips For Children
There's no need to wait until your baby actually has teeth to lay the foundations for good oral or general health. In fact, good nutrition and oral hygiene can start right away. It is up to you to develop the routines that will help protect your child from tooth decay and other oral health problems. So let's get started... Read Article