Tooth Extractions in Odessa, TX
When Tooth Extraction is Necessary
Good oral hygiene is a must. The loss of a single tooth can have a major impact on overall oral health and appearance. Although dentists will use every measure to prevent tooth loss, there are still some occasions when a tooth extraction is necessary. A tooth may need to be removed if the following occurs:
Severe decay
Advanced gum disease
Infection or abscess
Orthodontic correction
Malpositioned teeth
Fractured teeth or roots
Impacted teeth
The dentist may suggest a tooth extraction after careful examination and treatment. X-rays are used to understand the shape and position of the tooth and surrounding bone before removing the tooth. Based on the degree of difficulty, a dentist may refer you to an oral surgeon.
After Your Tooth is Removed
A certain amount of pain and discomfort is to be expected following an extraction, but it can be minimized with painkillers and ice packs applied to the face for 15 minutes at a time. Discomfort should lessen within three days to two weeks.
If you experience prolonged or severe pain, swelling, bleeding or fever, call our office at (432) 333-6169 immediately.
Related Tooth Extraction Articles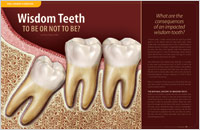 Wisdom Teeth – To Be Or Not To Be
Wisdom teeth, which typically make their appearance between the ages of 17 and 25, can cause significant problems when there is not enough room for them to grow in properly. As a person ages, the effects of retained and impacted wisdom teeth can be more consequential. This article reviews the issues associated with wisdom teeth and whether or not they should be removed... Read Article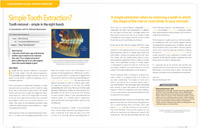 Simple Tooth Extraction?
Removing teeth, while not a particularly pleasant experience, is a routine and uncomplicated procedure in the hands of an expert. It is important that all the potential risks, benefits and possible outcomes of tooth removal are reviewed with you beforehand, so you know what to expect... Read Article