Emergency Dentistry in Odessa, TX
We're Available to Help
Emergency dentistry can be frightening, especially when your smile is threatened. But don't worry — we can help you no matter the dental emergency you have. We can provide comfortable solutions that'll have you smiling again in no time.
Call our office at (432) 333-6169 and we can help you, no matter when you call. We offer same-day emergency dental care and appointments so you don't have to suffer.
Emergency Tooth Extractions & Oral Surgery
Dr. Rangel does everything he can to save a tooth — but especially in an emergency, the tooth may have to be removed for the sake of your overall health. Tooth extractions aren't painful and can help your mouth to heal as well as prevent further infection or damage.
Fillings & Crown Repair
Fillings and dental crowns are meant to last for a long time, but they don't last forever. If your filling or crown has become damaged or falls out, we can help you. 
We can also perform emergency tooth fillings if you have a cavity that's causing you pain — we try to do this as soon as possible, as waiting can allow the infection to spread further and result in a need for more invasive procedures.
Root Canal Therapy
A severely infected tooth doesn't always have to be removed. In fact, Dr. Rangel will usually consider a root canal treatment first. Emergency root canal therapy can save your infected tooth by removing the infection from inside, relieving your pain while preserving your natural tooth.
Dental Implant & Denture Care
An issue with your tooth replacement can threaten your smile and ability to eat, but we can ensure the integrity of your teeth so you don't have to worry. We can fix broken, ill-fitting, or otherwise compromised tooth replacements.
Dental implants and dentures allow you to thrive, and we'll make sure it stays that way.
Call (432) 333-6169 for Emergency Dental Care
If you're in pain or part of your mouth is damaged, Dr. Rangel and our team are here for you. We can get you into our office for emergency dentistry the same day you call us, so don't hesitate.
Frequently Asked Questions
Related Dental Emergencies Articles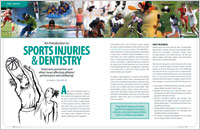 An Introduction to Sports Injuries & Dentistry
Dental injuries incurred during sports activities are highly treatable, and can involve positive outcomes if participants act quickly to see a dentist after an injury. However, if not treated quickly these kinds of injuries can lead to discomfort, embarrassment and a lifetime of dental costs... Read Article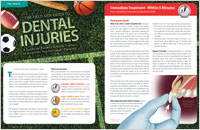 The Field-Side Guide to Dental Injuries
Accidents to the teeth, jaws and mouth can happen at any time during any sporting activity. Proper attention can save pain, alleviate anxiety and costly dental treatment. A little knowledge, as they say, can go along way. This field-side guide briefly explains some simple rules to follow when dealing with different dental injuries and when you need to see the dentist... Read Article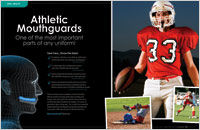 Athletic Mouthguards
There are times when an athlete can feel invincible... able to connect on every jump-shot, run faster and longer, or hit every pitch, but statistics show that even on their best days accidents can happen. An ounce of prevention goes a long way... For a small cost, a protective mouthguard can prevent excess anxiety, risk, injury, pain, suffering, and years of dental treatment... Read Article