Veneers
Get a Beautiful New Smile in Just Two Visits
How would you like to have a perfect smile? With dental veneers, Dr. Rangel can give you a stunning new smile in just a few weeks. The process is quick and painless, so there's no reason to wait for your dream smile any longer.
Veneers are thin shells that Dr. Rangel attaches to the front surfaces of your teeth, instantly transforming your smile by eliminating the following types of imperfections:
Chips or cracks
Gaps between teeth
Small or poorly shaped teeth
Surface craters or bulges
Uneven teeth
Severely stained teeth
It's So Easy
The veneers process begins with your consultation with Dr. Rangel. He'll ask you about your treatment goals to find out exactly what you're looking for. He'll also go over your cosmetic treatment options, such as dental bonding or professional teeth whitening.
If you decide you want veneers, we'll go ahead and plan your treatment calendar. During your first visit, Dr. Rangel will take an impression of your teeth. We'll share this information with our dental laboratory so they can start making your veneers.
As soon as your veneers are ready, you'll return to our office so Dr. Rangel can attach them using special dental adhesive. Then he'll trim and polish your veneers until they look perfect. Now you'll be ready to face the world with a gorgeous new smile.
Are Veneers Right for Your Smile?
If you want a smile that makes you look like a Hollywood movie star, then veneers may be right for you. In fact, a lot of your favorite actors and actresses have already perfected their smiles with veneers.
To learn more about veneers or any of our cosmetic services, just give us a call at (432) 333-6169 today. One of our friendly team members will be happy to answer your questions. We can't wait to see you with an incredible new smile.
Related Porcelain Veneer Articles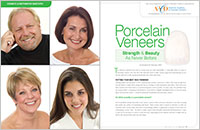 Porcelain Veneers: Strength & Beauty As Never Before
The advances dentistry has seen in recent years are truly remarkable — especially when it comes to porcelain veneers. These thin, lifelike, cosmetic dental porcelains can do wonders to change the color, size, shape and even spacing of your teeth. Find out about the process and how to get the best results. Plus, real-life examples of beautiful smile makeovers created with porcelain veneers... Read Article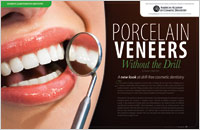 Porcelain Veneers – Without A Drill
More and more, dentistry, like medicine, is finding ways to be as conservative as possible while providing the best possible results. "No-prep" or "prepless" veneers are one way to improve and enhance smiles without the downside of drilling away healthy tooth enamel... Read Article