ClearCorrect® Aligners in Odessa, TX 
A Quick, Comfortable, Discreet Way To a Better Smile
A straight smile doesn't only help you look and feel more attractive. It's also a key component to good oral health. Straight teeth are easier to clean, less prone to disease, and provide a better bite. 
Orthodontic treatment can help straighten and improve your smile, but the prospect of wearing metal braces may make you feel reluctant to undergo the process. Fortunately, at Laser Smile Center of Odessa, TX, Dr. Rangel offers his patients orthodontic treatment with ClearCorrect aligners.
What Are ClearCorrect Aligners?
ClearCorrect aligners are a series of aligner trays made of polyurethane resin that gently exert pressure on your teeth to guide them into place over an extended period of time. Like traditional metal braces, ClearCorrect aligners can be used to solve a number of misalignment issues, including: 
Teeth crowding

Overbite

Underbite

Crossbite

Gapped teeth

Open bite

Misaligned or misshapen teeth
Benefits of ClearCorrect Aligners
ClearCorrect aligners have become a highly popular method of orthodontic treatment due to the advantages the ClearCorrect system has over traditional metal braces. Some of these advantages include:
Natural Appearance

– ClearCorrect aligners are virtually transparent, so no one will even notice you're undergoing orthodontic treatment.

Quick Treatment Time

– The average amount of time for orthodontic treatment with ClearCorrect is

12 months

, which is half the average time of metal braces.

Comfort

– ClearCorrect aligners are made from flexible polyurethane resin that are custom-designed to fit your unique smile. This makes your ClearCorrect aligner trays comfortable enough to wear for hours on end. 

Convenience

– ClearCorrect aligner trays are easy to remove and reapply on your own. You'll be able to take them out to eat and drink what you want, and will allow you to more easily clean your teeth and aligners. 
ClearCorrect Aligners vs At-Home Aligners
While ordering generic, clear aligner trays online can be convenient and affordable, Dr. Rangel strongly recommends avoiding this method for undergoing orthodontic treatment. At-home orthodontic treatments often make orthodontic problems worse in people who have severe cases of tooth or jaw misalignment. If the aligners are even the slightest bit off, your entire alignment can be thrown off, further damaging your oral health.
Receiving orthodontic treatment from Dr. Rangel helps ensure that your unique dental needs are met, allowing for a safe and effective orthodontic treatment. Dr. Rangel will also keep track of your treatments progress, so any issues you may encounter can be addressed quickly and efficiently.   
The ClearCorrect Process
Your Initial Consultation
Before Dr. Rangel approves you for orthodontic treatment with ClearCorrect aligners, you'll attend a consultation with him at our Odessa office. During this consultation, Dr. Rangel will thoroughly examine your mouth, take X-rays of your teeth, review your medical history, and discuss your smile goals with you to determine if ClearCorrect is right for you. He'll also discuss your other treatment options so you can make an informed decision about your orthodontic treatment.  
Designing Your ClearCorrect Aligners
If you both decide to proceed with orthodontic treatment with ClearCorrect, Dr. Rangel will take an impression of your teeth that will be sent to a special lab. This impression will serve as the blueprints for your custom-made ClearCorrect aligners.      
Receiving Your ClearCorrect Aligners
A few weeks after your initial consultation, you'll receive your first set of ClearCorrect aligners at our Odessa office. They should easily snap on, a process that requires no anesthetic. Once Dr. Rangel has ensured that your ClearCorrect aligner trays fit comfortably and securely, he'll send you home and your treatment will begin. 
Wearing Your ClearCorrect Aligners
In order to ensure effective treatment with ClearCorrect aligners, you're required to wear them for a minimum of 22 hours a day, only taking them out to eat, drink fluids other than water, and clean your teeth and aligners. Each set of ClearCorrect aligner trays will be worn for two weeks, after which you'll replace them with the next set in the series. 
You won't have to visit the dentist every two weeks, though. Your aligners will be sent directly to you, and Dr. Rangel will check the progress of your treatment every six to eight weeks. If necessary, Dr. Rangel will order new trays to keep your treatment on track. 
ClearCorrect aligners take less time to straighten your teeth because they cover the entire tooth and push from all sides instead of only one. While the average treatment time of ClearCorrect is 12 months, the length of treatment can vary based on a patient's unique dental needs.    
Frequently Asked Questions
ClearCorrect: A Better Smile In Less Time, Without Metal
With ClearCorrect aligners, Dr. Rangel can help you get the smile of your dreams, without the need to cover your teeth in uncomfortable, unattractive metal. Thanks to ClearCorrect's innovative design, you can expect your treatment to be faster than traditional braces and best of all, discreet.
To learn more about how ClearCorrect aligners can transform your smile, or to schedule an appointment with Dr. Rangel, contact Laser Smile Center in Odessa, TX by dialing 432-333-6169 or fill out our online contact form. We look forward to starting you on the journey to a brilliant, healthy smile! 
Related Clear Orthodontic Aligner Articles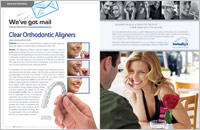 Clear Orthodontic Aligners
Orthodontic treatment using clear aligners consists of a series of aligners that you change about every two weeks over a course of treatment lasting six to eighteen months depending on how much movement is needed... Read Article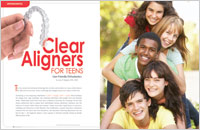 Clear Aligners for Teenagers
Teens who regard traditional braces as restrictive, confining, and obstructive to their lifestyles now have another choice for orthodontic treatment: clear aligners. This advanced dental technology, originally geared toward adults, has recently evolved to treat a greater variety of bite problems in younger people. These improved orthodontic appliances can help teens function normally during a difficult phase of life... Read Article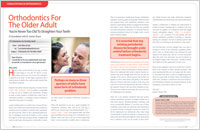 Orthodontics for the Older Adult
Healthy teeth can be moved at any age, so there's no such thing as "too old" for braces. In fact, nowadays about one out of every five orthodontic patients is an adult. Yet this figure represents only a small portion of adults who could actually benefit from orthodontic treatment... Read Article