ClearCorrect® in Odessa, TX
What is ClearCorrect?
ClearCorrect is a popular clear alignment system that's free of brackets and wires. ClearCorrect is comfortable and nearly invisible, so you can smile without worrying about the visibility of metal braces.
You also don't have to worry about which foods you can and can't eat. ClearCorrect trays are removable, so you can eat whatever you want. Invisible aligners provide freedom and ease of treatment so your daily life will hardly be any different.
ClearCorrect Process
1. First Consultation – At your first consultation, Dr. Rangel will examine your teeth and take x-rays to determine which orthodontic method is right for you. If ClearCorrect fits your needs, he'll take an impression of your teeth so your aligners can be created.
2. Wearing Your Aligners – A few weeks after your first consultation, you'll receive a set of custom-designed removable aligners to gradually shift your teeth. We recommend you wear your aligners for 22 hours a day and remove them for meals and cleaning only.
You'll wear one set of aligners for two weeks, then receive another set to shift your teeth more. You won't have to visit the dentist every two weeks, though. Your aligners will be sent directly to you, and your dentist will check your progress every six to eight weeks.
3. Length of Treatment – Individual treatment plans vary in length depending on the extent of care required, but invisible aligners usually take about half the time of regular braces. ClearCorrect takes about 12 months on average, as opposed to two years of metal braces.
ClearCorrect aligners take less time because they cover the entire tooth and push from all sides instead of only one. If you wear your aligners for the prescribed 22 hours a day, your treatment will be finished quicker.
ClearCorrect vs At-Home Aligners
At-home aligners sound even more convenient because they don't require visits to the dentist. Unfortunately, these at-home treatments often make dental issues worse in people who have complex issues. If the aligners are even the slightest bit off, your entire alignment can be thrown off, damaging your oral health.
Going through a dentist for aligners makes it more likely you'll get the treatment you need without complications. Your treatment will also be fully customized to your needs, and any issues that come up can be solved by a professional.
Frequently Asked Questions
Contact Us for Straighter Teeth
ClearCorrect aligners are a convenient, comfortable, and visually pleasing alternative to traditional metal braces. Many alignment issues can be solved with invisible aligners so you can smile without hesitation.
If you're interested in ClearCorrect aligners, feel free to call our office at 432-333-6169 or fill out our online contact form. We'll be happy to address any questions or concerns you have.
Related Clear Orthodontic Aligner Articles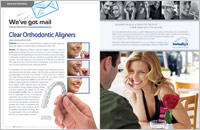 Clear Orthodontic Aligners
Orthodontic treatment using clear aligners consists of a series of aligners that you change about every two weeks over a course of treatment lasting six to eighteen months depending on how much movement is needed... Read Article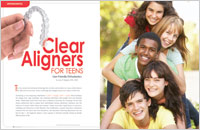 Clear Aligners for Teenagers
Teens who regard traditional braces as restrictive, confining, and obstructive to their lifestyles now have another choice for orthodontic treatment: clear aligners. This advanced dental technology, originally geared toward adults, has recently evolved to treat a greater variety of bite problems in younger people. These improved orthodontic appliances can help teens function normally during a difficult phase of life... Read Article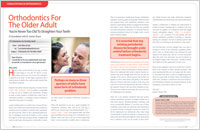 Orthodontics for the Older Adult
Healthy teeth can be moved at any age, so there's no such thing as "too old" for braces. In fact, nowadays about one out of every five orthodontic patients is an adult. Yet this figure represents only a small portion of adults who could actually benefit from orthodontic treatment... Read Article